termshark
A terminal user-interface for tshark, inspired by Wireshark.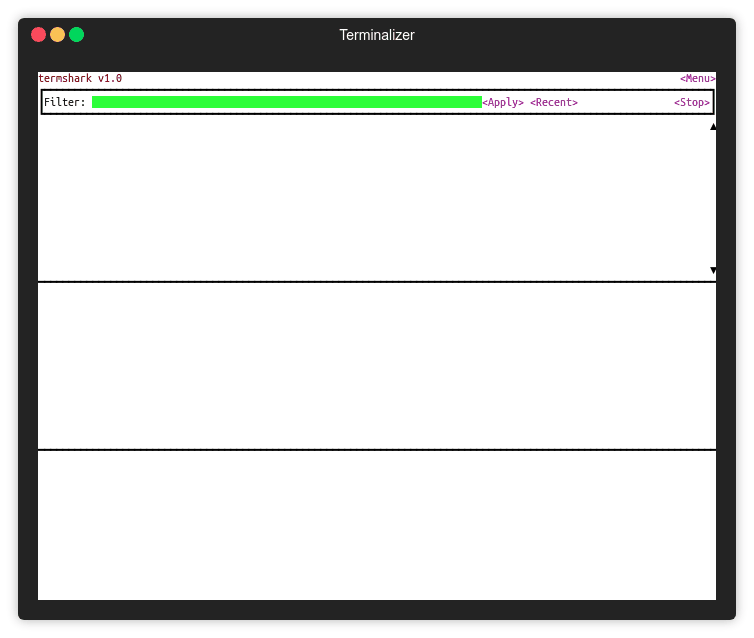 If you're debugging on a remote machine with a large pcap and no desire to scp it back to your desktop, termshark can help!
Features
Read pcap files or sniff live interfaces (where tshark is permitted).
Inspect each packet using familiar Wireshark-inspired views
Filter pcaps or live captures using Wireshark's display filters
Copy ranges of packets to the clipboard from the terminal
Written in Golang, compiles to a single executable on each platform - downloads available for Linux (+termux), macOS, FreeBSD, and Windows
Building
Termshark uses Go modules, so it's best to compile with Go 1.11 or higher. Set GO111MODULE=on then run:
go get github.com/gcla/termshark/cmd/termshark

Then add ~/go/bin/ to your PATH.
For all packet analysis, termshark depends on tshark from the Wireshark project. Make sure tshark is in your PATH.
Quick Start
Inspect a local pcap:
termshark -r test.pcap

Capture ping packets on interface eth0:
termshark -i eth0 icmp

Run termshark -h for options.
GitHub